We have three cabins available for rental at TMSP 2014. Please contact Eden Valley directly to arrange for their rental. These will be on a first-come, first-served basis. Cabin rentals will be in addition to your registration for attending the Table Mountain Star Party.
On-Site Registration Available
Pre-registration has now ended. We will be accepting on-site registrations at Eden Valley.
To simplify the registration process, you may still fill out a registration online, print it out and bring it with you to Eden Valley. Read more about this on the Registration Page:
---
TMSP 2014 Dates:
Tuesday, July 22nd through Saturday, July 26th 2014
at Eden Valley Guest Ranch, Oroville, WA.
We are pleased to announce the above dates for TMSP 2014. In cooperation with Eden Valley, we will be opening on Tuesday - a day earlier than we did in 2013 - for those that want a longer Star Party experience.
---
2014 Guest Speakers
We are pleased to announce our lineup of Guest Speakers for TMSP 2014:
Peter Ceravolo, professional optician and founder of Ceravolo Optical Systems.
Debra Ceravolo, astro-imager specializing in image processing.
Alan Dyer, co-author of The Backyard Astronomers Guide
Shane Larson, Associate Professor of Physics at Northwestern University, and member of the Astronomy Department at Chicago's Adler Planetarium
Michelle Larson, President and CEO of Chicago's Adler Planetarium
Jack Newton, world-renowned astro-imager and author.
Information on their speaking topics can be found on the Speakers Page and their backgrounds on the Guest Speaker Biographies Page.
---
Student Telescope Building Program
Want to build your own telescope? We still have kits to build your own 5" or 8" Dobsonian available for this year. More information is on the
Student Telescope Building Program page.
---
2014 Observers Challenge
Tom Masterson and Krieg McBride have provided us with this years list of objects for the Observers Challenge. You can find more information on the program and download the list from
the Observers Challenge page.
---
In Memorium: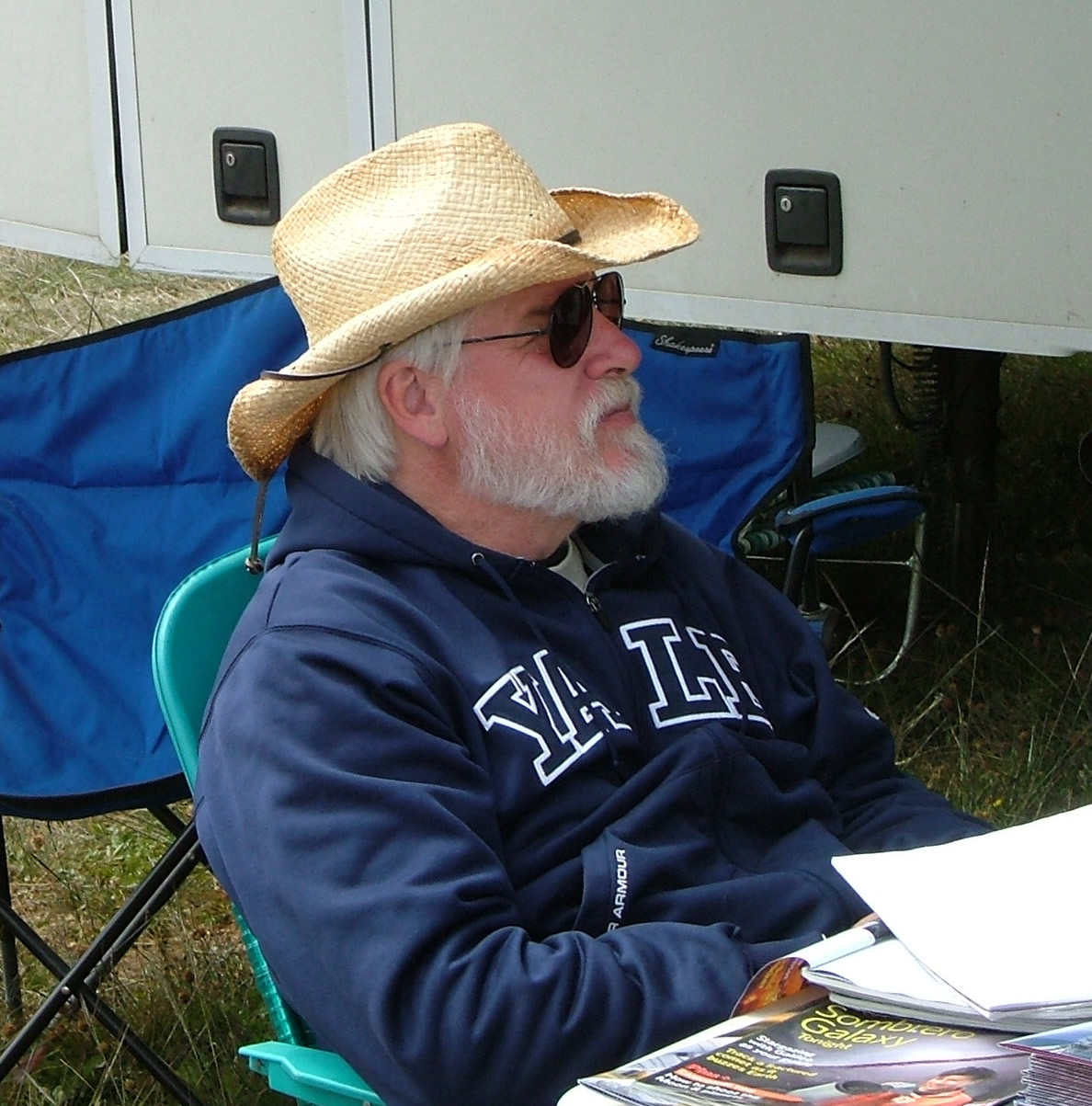 Tom Colwell
It is with a heavy heart that we report the passing of Tom Colwell on March 16th. Tom was one of Founding Fathers of the Table Mountain Star Party, when he suggested using the Table Mountain site as the location for the annual meeting of the NWRAL and informal star party. This event would eventually become formalized as TMSP. Long-time TMSP attendees may remember Tom for the Night Sky Tours he gave, always imbued with the lore and legend that only he could provide. Or for his impromtu participation in "Mountain Jam Sessions" bringing his musical talents to play for us to enjoy.
For those of us here at TMSPA, Tom was a dear friend, mentor and damn fine gentleman. We will miss him dearly.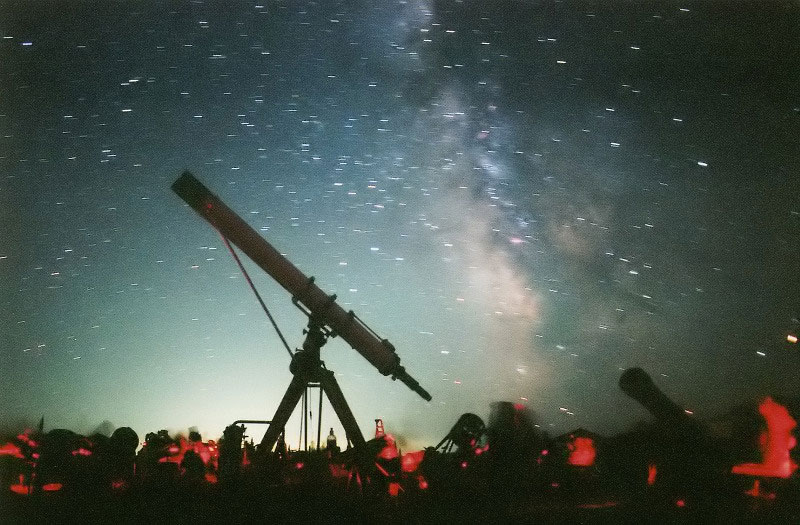 Tom's scope on the telescope field.
---
Status of Table Mountain
TMSPA continues to work with the Forest Service regarding the use of the Lion Rock / Table Mountain location for our event. Currently, the situation is that the Forest Service is still examining if they will be issuing Special Use Permits for the area in 2014 and beyond. There are many safety concerns with the site due to the burned trees in the area and the potential for them to fall, either just from the fire damage or in conjunction with wind and weather. The danger is such that the Forest Service has posted a sign on the Table Mountain Road regarding the danger of falling trees, warning that you "proceed at your own risk" in entering Forest Service lands.
Through conversations with our contacts in the Forest Service, the general opinion that has been reached is that if TMSPA were to be issued a Special Use Permit for 2014, that it would be severely restricted in terms of the area open for TMSPA to operate within as compared to years prior due to the potential danger of falling trees in areas typically used during the Table Mountain Star Party. One of our obligations as an organization is to take all due and reasonable precaution to protect our attendees while providing the best possible star party experience possible. Making use of a potentially dangerous location and being restricted even further in the number of attendees we can accommodate are not aligned with returning to Table Mountain in 2014.
As such, the TMSPA Directors have chosen to return to Eden Valley for TMSP 2014.
We will continue working with the Forest Service to determine when we will be able to return to our namesake site.
---
TMSPA Weblog

Want to stay up-to-date with news and announcements about the Table Mountain Star Party? We have our own TMSPA Weblog service so that you can get those updates via RSS feed. We'll be posting announcements regarding registration, Speakers Programs and other TMSP news on the Weblog. Check it out and subscribe to the RSS feed and you'll always get the latest information.