August 7th - 11th, 2018
---
Thank You!!
We at TMSPA would like to thank our attendees, Guest Speakers and Vendors for a fabulous 2017 Table Mountain Star Party!
We were able to enjoy a full week of good observing nights this year, with Saturday night seeming to be the best of the week. We hope that you all enjoyed being with us this year, and...
We look forward to seeing you in 2018!!
We anticipate that Registration for TMSP 2018 will open in April.
---
First-Timer? Have questions about TMSP?
Check out our new First-Timer's Page. We try to cover the basic questions you may have about attending TMSP. Everyone is welcome, no special requirements - and you don't even need to own a telescope or know anything about astronomy. Our main purpose is astronomy outreach and community.
---
Sky & Telescope gives TMSP some recognition and is amongst many to laud our Solar Projection Kit project this year!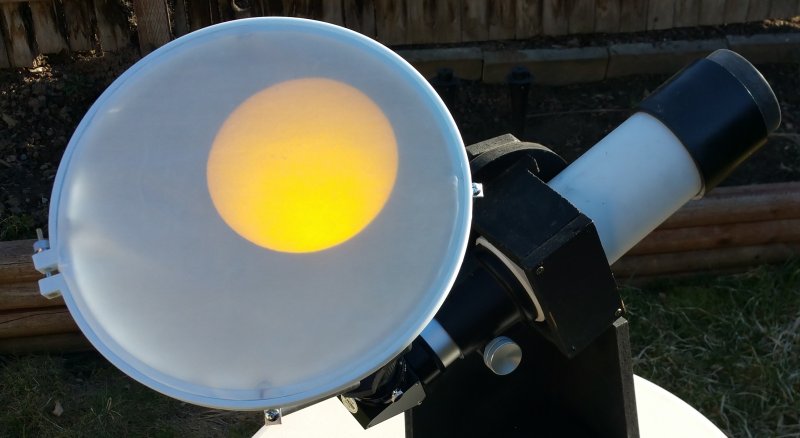 Sky & Telescope, courtesy of attendee S.N. Johnson-Roehr, published a very complementary article in their online version (read the article here) about TMSP 2017, including the efforts of TMSPA's Jack Day with his Solar Projection Kit he put together for us this year. Jack has received inquiries from across the country, including organizations like PBS, about how they can purchase or build the kits. We're very pleased to get the recognition from S&T and our thanks go out to them, and a speacial "THANKS!" to Jack for such a great project for our Telescope Building Program this year!
---
TMSPA Weblog

Want to stay up-to-date with news and announcements about the Table Mountain Star Party? We have our own TMSPA Weblog service so that you can get those updates via RSS feed. We'll be posting announcements regarding registration, Speakers Programs and other TMSP news on the Weblog. Check it out and subscribe to the RSS feed and you'll always get the latest information.